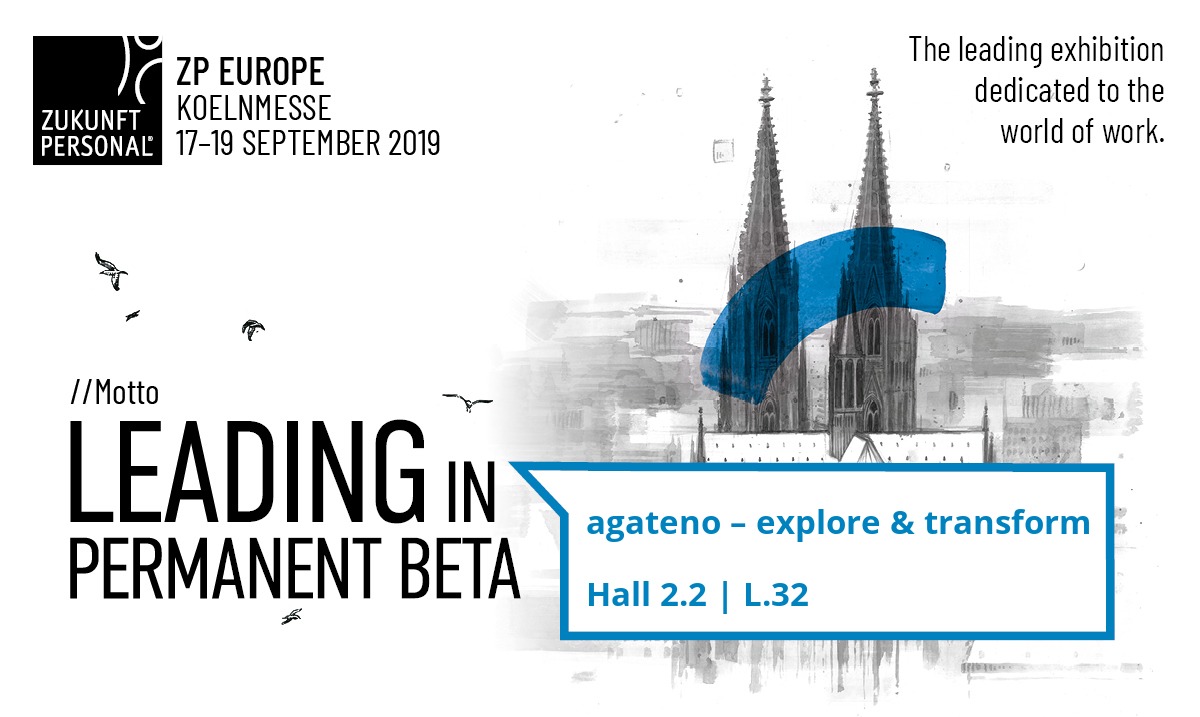 Come and visit us from September 17th-19th 2019 at our booth L.32 in hall 2.2 and experience sustainable organizational development.
We are looking forward to seeing you!
explore & transform – sustainable organizational development with agateno
Companies need to be more agile nowadays, to face a more complex and dynamic environment. In times of disruptive change, companies need to welcome change and actively drive their own development to be successful. Globalization and digitalization are challenges that require a new leadership that promotes respectful exchange, connection and orientation. In addition, it needs employees who act self-responsibly and from a strong intrinsic motivation.
We show you how to get there. We are your » transformation partners: We advise you and your company on how to initiate change, uncover hidden potential and ignite a common corporate spirit.
Digital transformation is a fundamental change that can only be fully understood with a holistic model approach. The seven essential elements of an organization and their interrelationships can be well understood using the example of the digital transformation of a...
read more
"Sehr geehrter Herr Goetz, sehr geehrter Herr Reinhardt, mit Ihrem Beitrag haben Sie ganz wesentlich zu einer anregenden und erfolgreichen Veranstaltung beigetragen. Dafür bedanke ich mich herzlich bei Ihnen. Ihr Mitwirken hat die Diskussion über die aktuellen und künftigen Herausforderungen der Sparkassen-Finanzgruppe bereichert und uns neue Wege und Perspektiven aufgezeigt."
Georg Fahrenschon
Präsident des Deutschen Sparkassen- und Giroverbands, Sparkasse: DSGV

"We are looking back to a year with an enormous amount of projects which we could realise in co-operation with you. I am glad, having such experienced external colleagues supporting us."
Senior Learning Designer
international retail company, International Retail