HR is often the neglected stepchild in the corporate family. In change processes, HR is rarely regarded as a natural contact for management – there is a lack of eye level between decision-makers and the HR department. It is quite clear: HR managers should, want and can contribute more to the transformation of the company.
A useful model for analyzing the complexity of a transformation is Professor Glasl's system concept, which identifies seven essential elements of an organization and considers the fundamental processes that guide a transformation.
How HR can use these in practice is shown in the qualification »HR Transformation Partner« (German) – further information below.
Engaging people for change
The reasons for far-reaching changes are manifold: the desire for more agility throughout the entire company or the upheavals of digital transformation. Or the changes initiated by the young generation towards more self-organization, flatter hierarchies and a more modern work culture (New Work) are so fundamental that they are not »just« a change, but a genuine transformation.
The situation is a paradox: HR has the natural focus on people in the company – and should therefore also be the natural contact person for employees in the transformation process.  
The underestimated potential of HR
In reality, however, decision-makers tend to try to cheat their way past HR during change processes. Why? Because HR is often not seen as a competent partner for complex change. HR is primarily perceived for administrative tasks such as payroll, vacation administration, sick leave or recruitment.
Ergo: Instead of involving the human resources department, external consulting firms are the preferred choice for change processes. A lot of internal potential is wasted here. Larger companies sometimes have their own internal departments specialized in change. But even in medium-sized companies these are by no means a given. The solution is obvious: to develop HR into a competent partner for change.
The HR Business Partner model
Dave Ulrich's HR Business Partner model reflects the broad spectrum of HR tasks: from administrative experts and »employee champions« to strategic partners and change agents (see chart).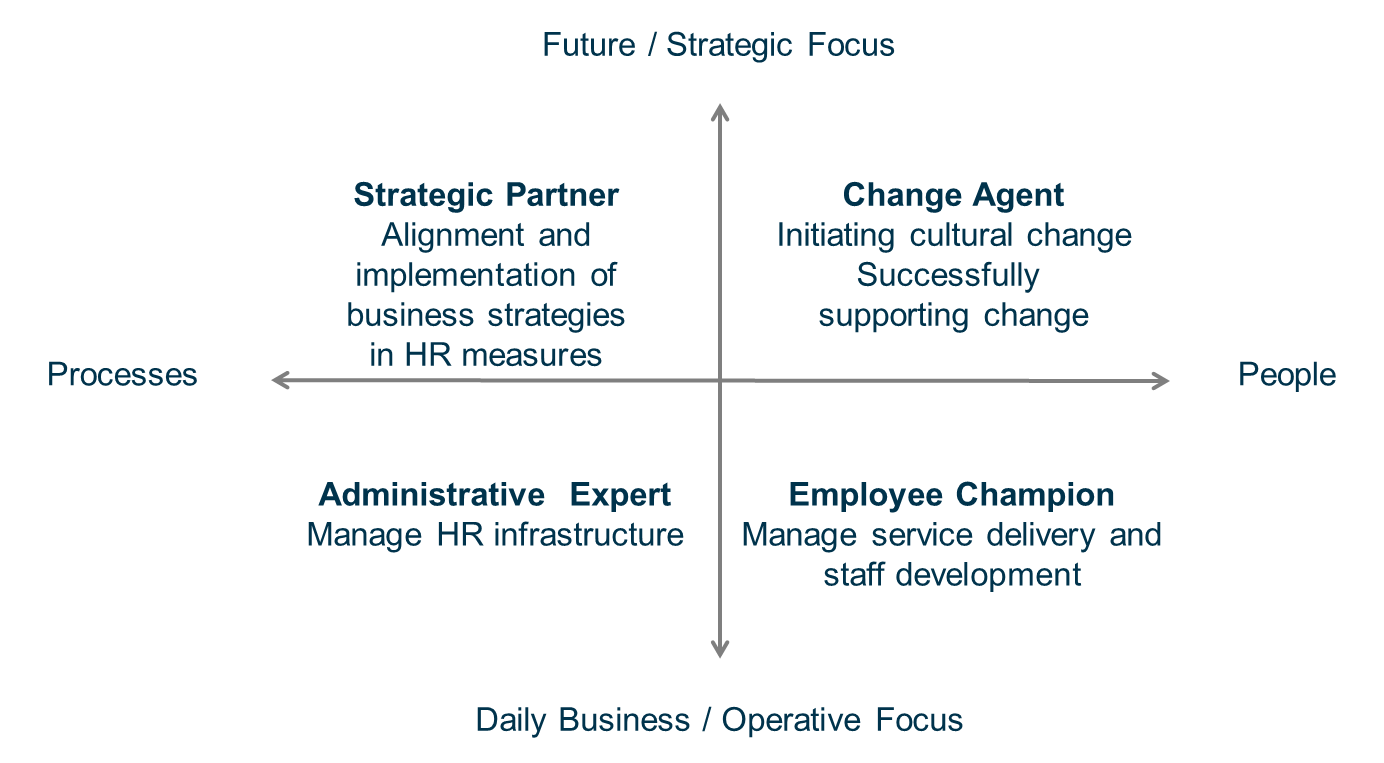 The model defines the strategic role of HR in cultural change. In practice, however, this is hardly lived.
How HR can build competence
To communicate with the management as equals, the Transformation Partner should be able to cover a broad spectrum of tasks. This includes at least:
Having a strategic and systemic understanding of processes – and being able to communicate this.

Being able to deal with emotions and conflicts in change.

Being able to »read« the culture of the company.

Being aware of the fundamental processes of change architectures.

Be a knowledge broker for all change topics.
The qualification »HR Transformation Partner« (German) closes the gap, which the internal HR professionals still have to bridge, in order fulfill their potential for the company.
Together with our colleagues from Synnecta, we offer the internationally proven qualification in three compact modules. Participants benefit from first-hand expertise: Synnecta has been supporting complex change processes in companies for more than 20 years – from medium-sized businesses to large corporations.
All contents and modalities for qualification can be found on https://hr-transformation-partner.com/.
Copyright: Shutterstock.com | tomertu